Roll over image to zoom in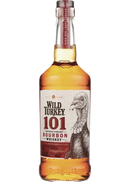 Description
Spirit Type: Whiskey

Country: USA

ABV: 40.5%

Bottle Size: 70cl
Get to taste the famous Wild Turkey "Alligator Char" technique.The Wild Turkey Rye Bottle will give you big, broad vanilla and spice notes without changing the bold rye taste.

Description:

In 1891, Thomas Ripy constructed the Old Hickory Distillery in Tyrone, Kentucky, close to Lawrenceburg, on the earlier site of the Old Moore distillery. After Prohibition, the Ripy family (Thomas had died in 1902) fixed the distillery and commenced again to produce bourbon.
 The Ripys sold the bourbon manufactured at this distillery to various wholesalers who bottled bourbon under their label, and Austin Nichols was one of these suppliers.
 The bourbon showed so generally among his friends they continued to ask him for "that wild turkey bourbon. Austin Nichols commenced bottling Wild Turkey in 1942.
 The product's color is very much deep amber gold, the initials of aromatic notes are much like spicy bubblegum, the rye spice blends in with a sweet cotton candy note that gives Wild Turkey 101 Rye a lovely as well as spicy nose. The rye spice isn't in your appearance, and instead, the hotness on the nose looks to come more from the proof than the mash bill. 
 There's maple syrup, wood bark, and slightly earthy tones as well. As with many ryes, there are notes of spearmint & pine, but they are faded and restrained. Overall, the aromas are pleasant and mesmerize you into taking a sip.  
 The product's taste with the initial sip gives off a sweet, herbaceous quality of newly cut grass, vanilla, and rye spice as it develops more flavors of toasted sweet oak, leafy greens evergreen pine, and caramel display. The proof and rye spice give a heartfelt mouthfeel – perfect for brisk winter dusks. The heat isn't overwhelming, with the 101 proof being perfect for permitting the essences to develop in the mouth. 
Wild Turkey 101 Rye is more flavor full than other barely legal ryes, leading with a sturdier rye impact than the mash bill would have you to trust. The mouthfeel is pretty decent, with a creamy, punchy quality that is undoubtedly assisted by the 101 proof.
The finish is medium with a heavy wood dash that leads to a spicy drying finish. Certainly satisfying but could be made more stimulating with a touch more sweetness.