Roll over image to zoom in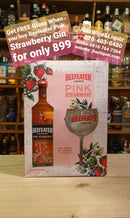 Description
Beefeater Pink Strawberry is the vibrant new Pink Gin made using the original Beefeater London Dry Recipe with the addition of Natural Strawberry flavouring to give it a vibrant and delicious strawberry taste.
The Found James Burrough would often experiment with new flavoured Gins and liqueurs, purchasing his ingredients from London's Covent Garden markets in the 1800s. These recipe archives and London's markets inspired our bright new expression, Beefeater Pink Strawberry.
TASTING NOTES
Appearance: Soft, natural Pink
Aroma: Pleasant, Strawberry aroma
Taste: The soft fruits flavours of strawberry tune perfectly with classic notes of juniper and citrus to product finely balanced contemporary gin.