Roll over image to zoom in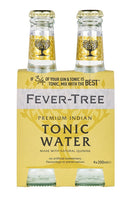 Description
By blending fabulous botanical oils with spring water and quinine of the highest quality from the 'fever trees' of the Eastern Congo, Fever Tree has created a delicious, award winning tonic with a uniquely clean and refreshing taste and aroma. Designed to enhance the very best gins or vodkas.
INGREDIENTS
Carbonated Spring Water • Sugar • Acid: Citric Acid, Natural Flavours including Natural Quinine
PERFECT PAIR
Pairs perfectly with all premium gins.